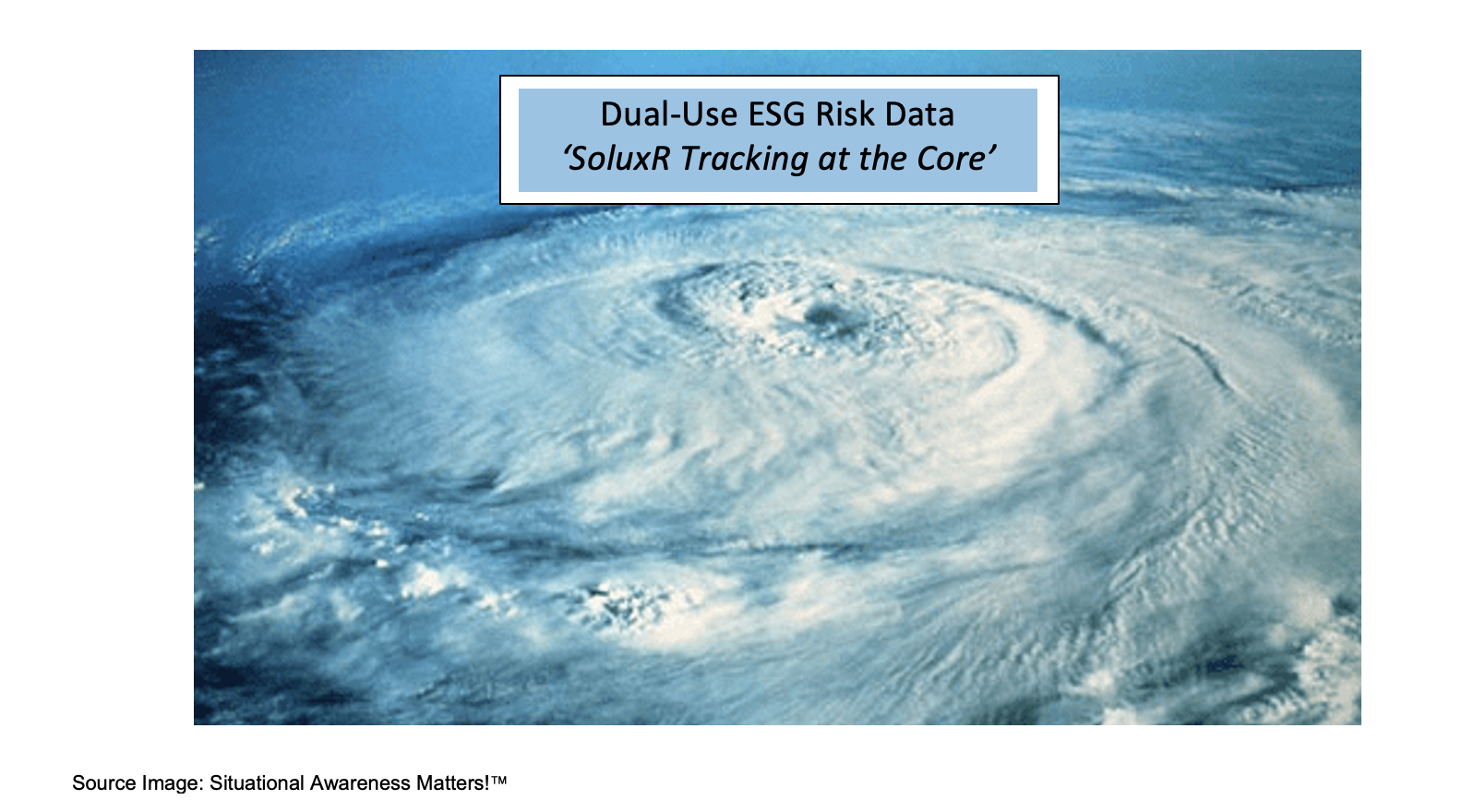 A Perfect Storm created by the concurrence of:
Climate Crisis threatening societies and physical assets of over 60% S&P 500
20,000 years of technology advancements in 100 years disrupting business models
Global trade tensions precipitating economic uncertainties
The Solution? Economic and ESG Sustainability.
BUT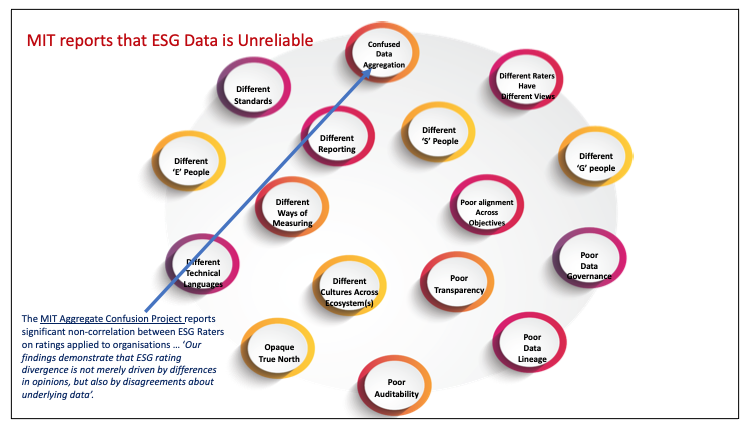 SoluxR believes that companies have made great strides. Relative to financial reporting advancements over the last 100 years, nascent ESG reporting is advancing very quickly today.
Impact of nascent ESG Data:
Boards lack transparent, data driven, evidence based actionable insights to credibly plan out their 2050 Net Zero commitments,
Management can't confidently track progress on ESG pathways,
Executives cannot respond confidently to investors about their long-term ESG impacts.
The Solution:
Dual-use ESG Metadata
'SoluxR Tracking at the Core'
'Getting under the skin of ESG company data, faster, better, more reliably and at lower cost than anyone else'Peadar Duffy
Companies get top-down/bottom-up data driven, evidence based, actionable insights from across all E, S and G dimensions of their entire organisations.
Institutional investors get selected ESG metadata when deemed appropriate by companies.

How does it work?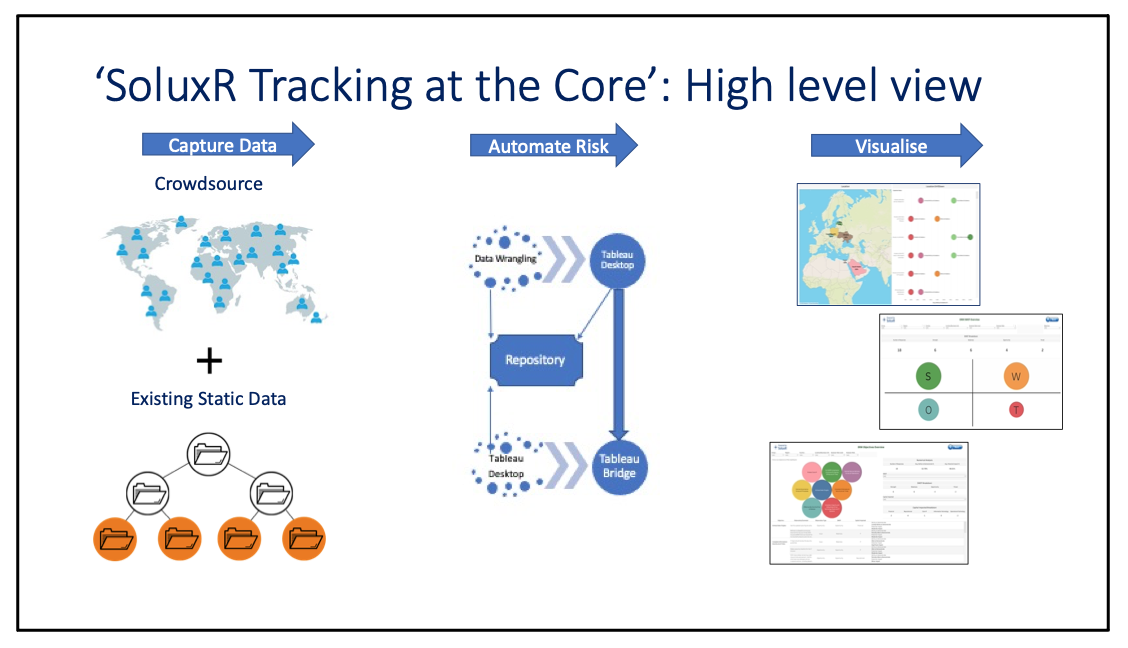 AI Powered crowdsourcing, data integration, analysis and visualisation in one seamless approach.
Story Board: What Good ESG Risk Data Looks Like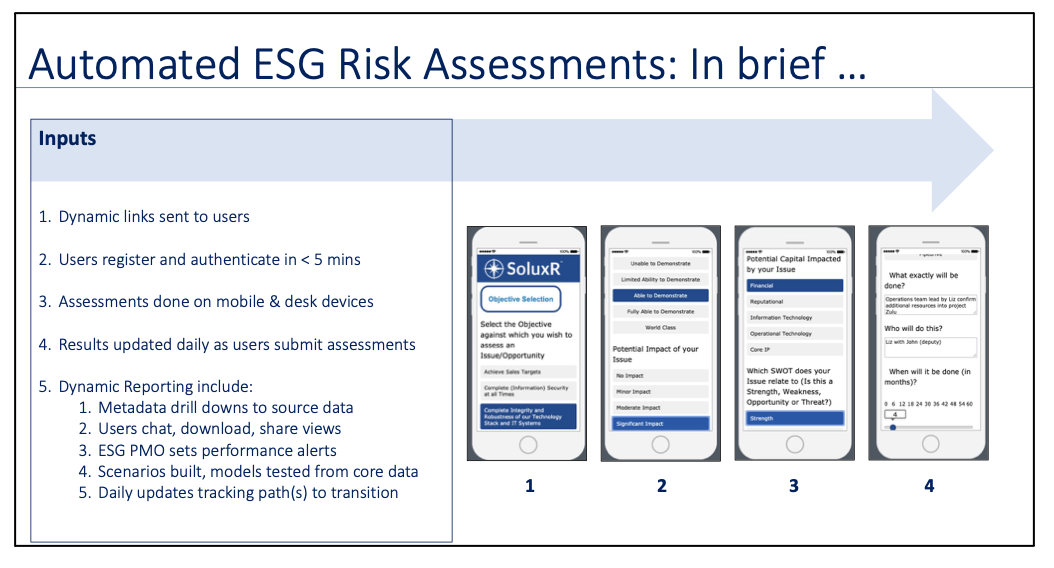 Speed & Ease: Dynamic links getting information from the people who have it to the people who need it. No training needed. Easier, better, faster, and more reliable.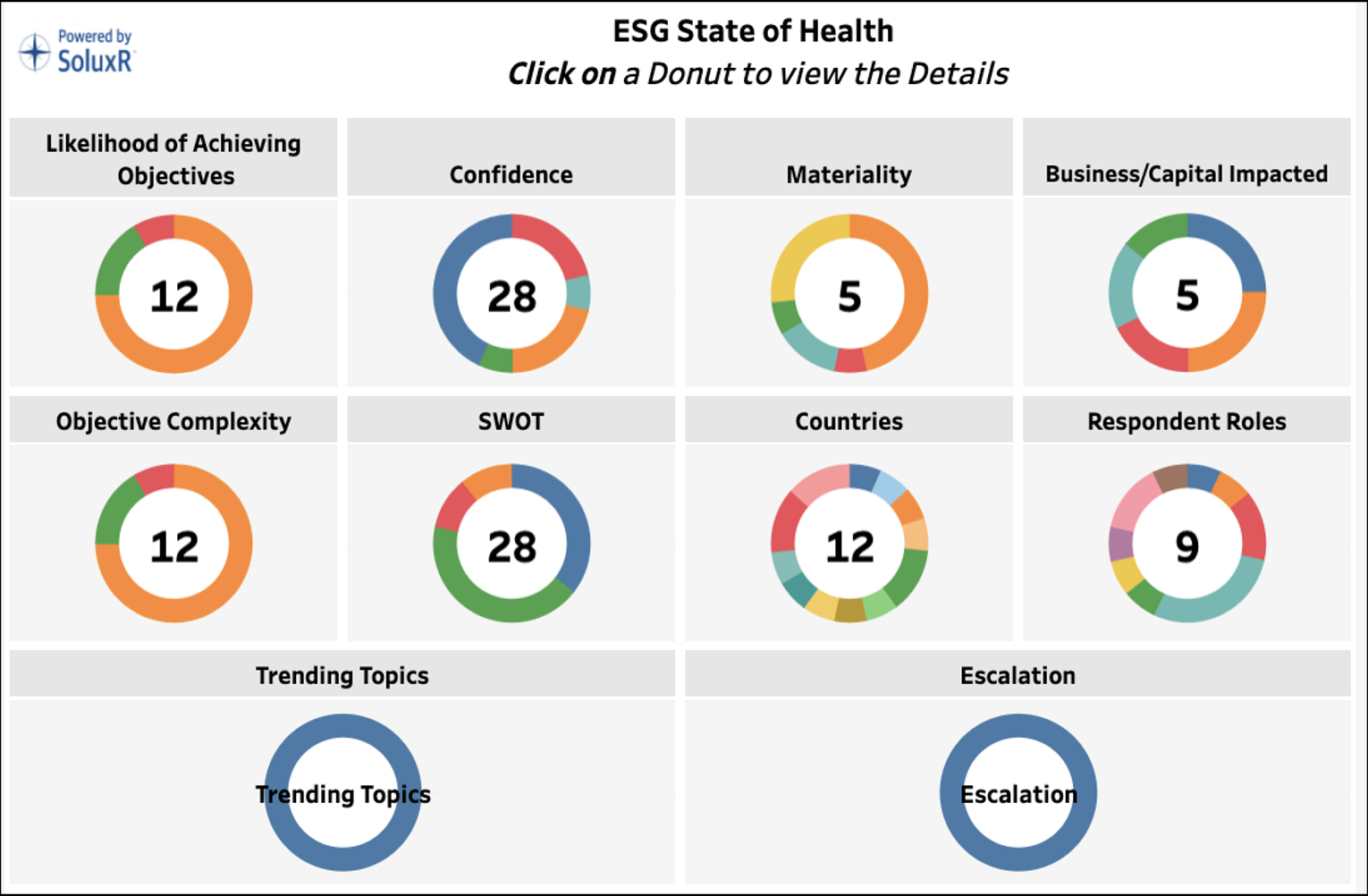 ESG State of Health:
Likelihood of achieving objectives, 12 primary objectives tracked, Red/Amber/Green colours driven algorithmically from the bottom up on the basis of What Matters Most (WMMs) to achieving secondary and primary objectives
Confidence Levels in likelihood assessments based on a bottom up sample of 28. The number of WMMs expands and contracts in sync with what's going on across the organisation
Materiality tracked here where in this sample of 5 of the SASB materiality dimensions are tagged relative to particular objectives across countries, regions etc.
Business/Capitals Impacted by specified supporting objectives and their associated WMMs across regions and countries
Objective complexity scores algorithmically derived for each of the 12 primary objectives with scores bucketed into red amber green
SWOTs driven up by the WMM from across the organisation
Number of Countries where ESG metrics are being tracked at the Core
Number of Role Types involved in ESG Tracking at the Core
Next Release: Trending Topics over time reflecting metrics, topics being discussed, and sentiment analysis of what people are saying
Next Release: Automated internal reporting escalations triggered when certain conditions (numerical values, key words, sentiment etc.) are met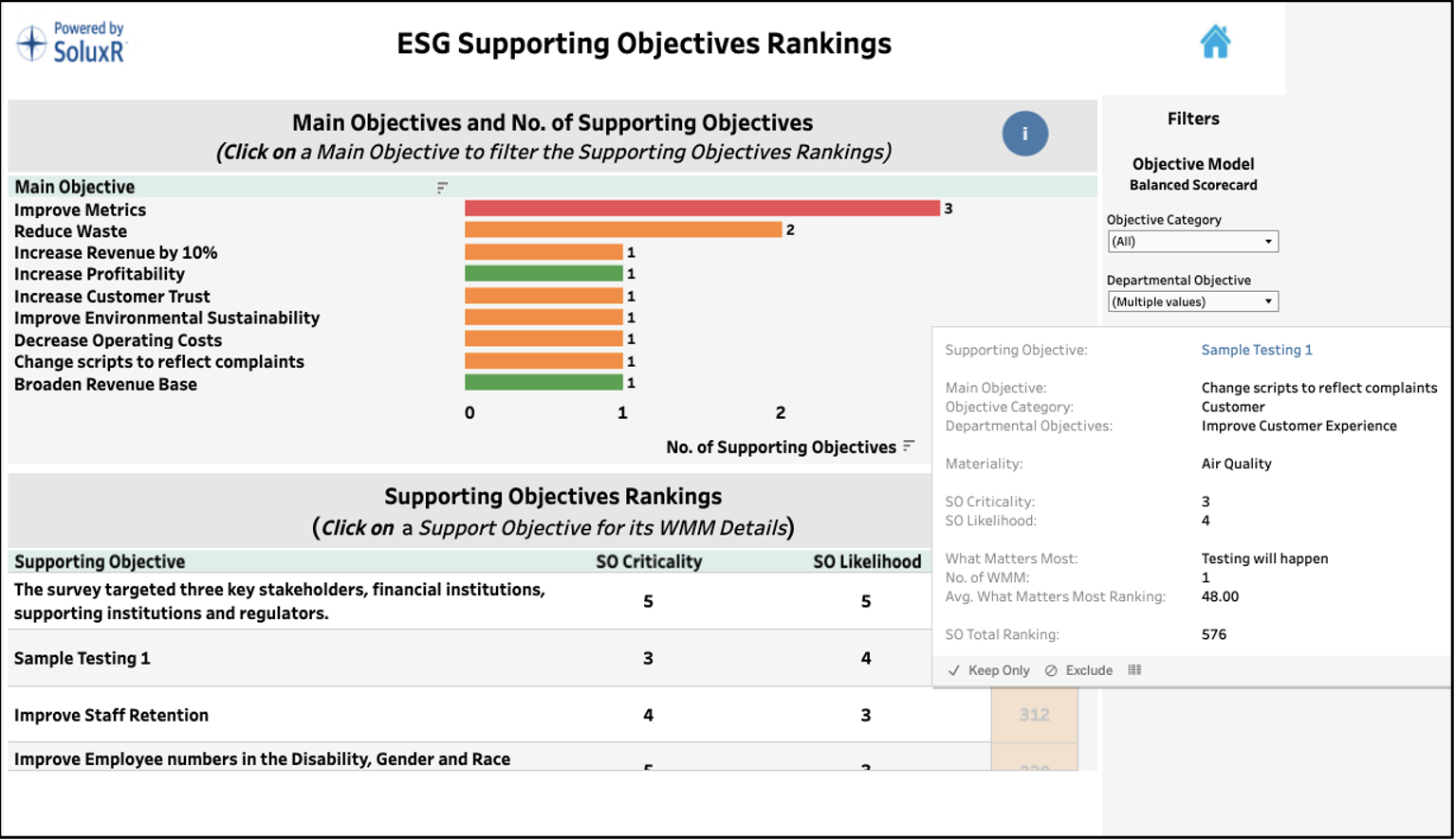 Likelihood of Achieving Objectives Insights reporting Red/Amber/Green objectives and the number of associated supporting objectives (at the end of each bar). Note the tooltip providing summary detail of the supporting objectives. Also note there is no limit to the number of primary and secondary objectives and What Matters Most (WMM) entries which can be created.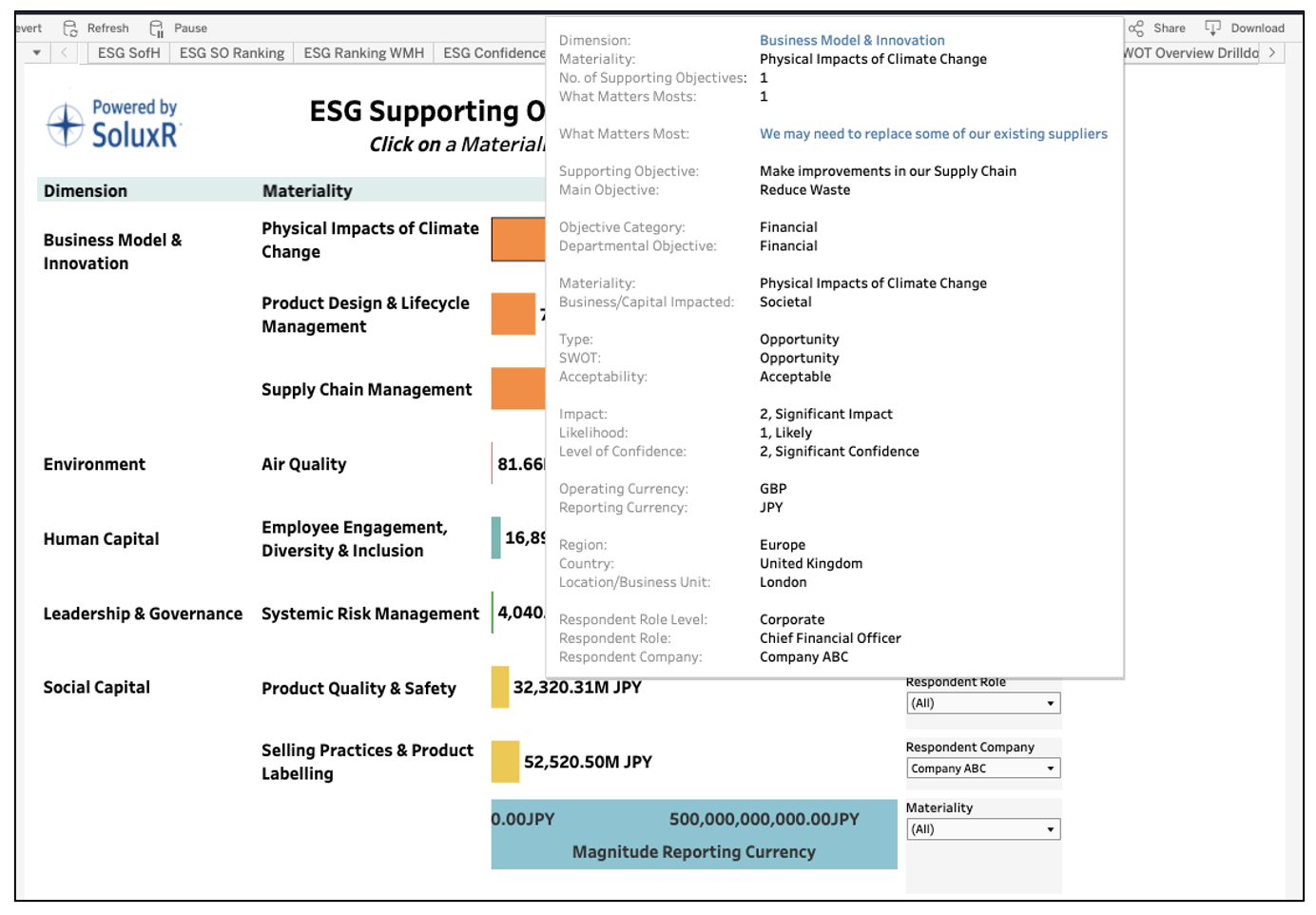 Materiality insights: Materiality financial loss/gain impacts (in both reporting and operating currencies) affecting individual objectives. Note the summary detail contained in the tool tip of one of the materiality bars. Also note that as in most other screens that alerts can be set here when certain conditions are breached. Alerts generate email notifications direct to nominated recipients inboxes.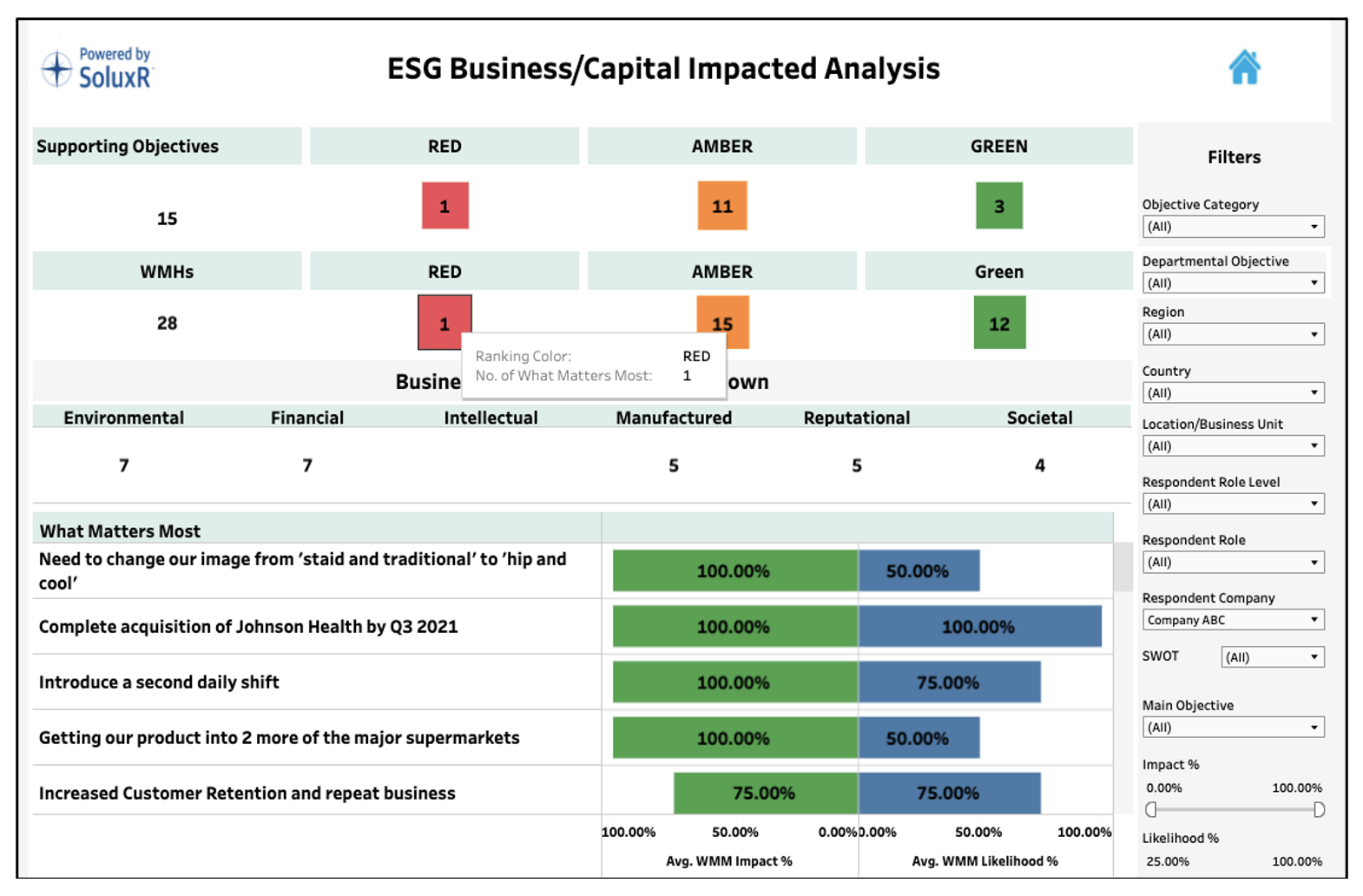 Business/Capitals Impact insights by objectives and What Might Happen. Note the scales 'Avg. WMM Impact and Likelihood %' and the filters and toggle on the right allowing scenarios to be developed.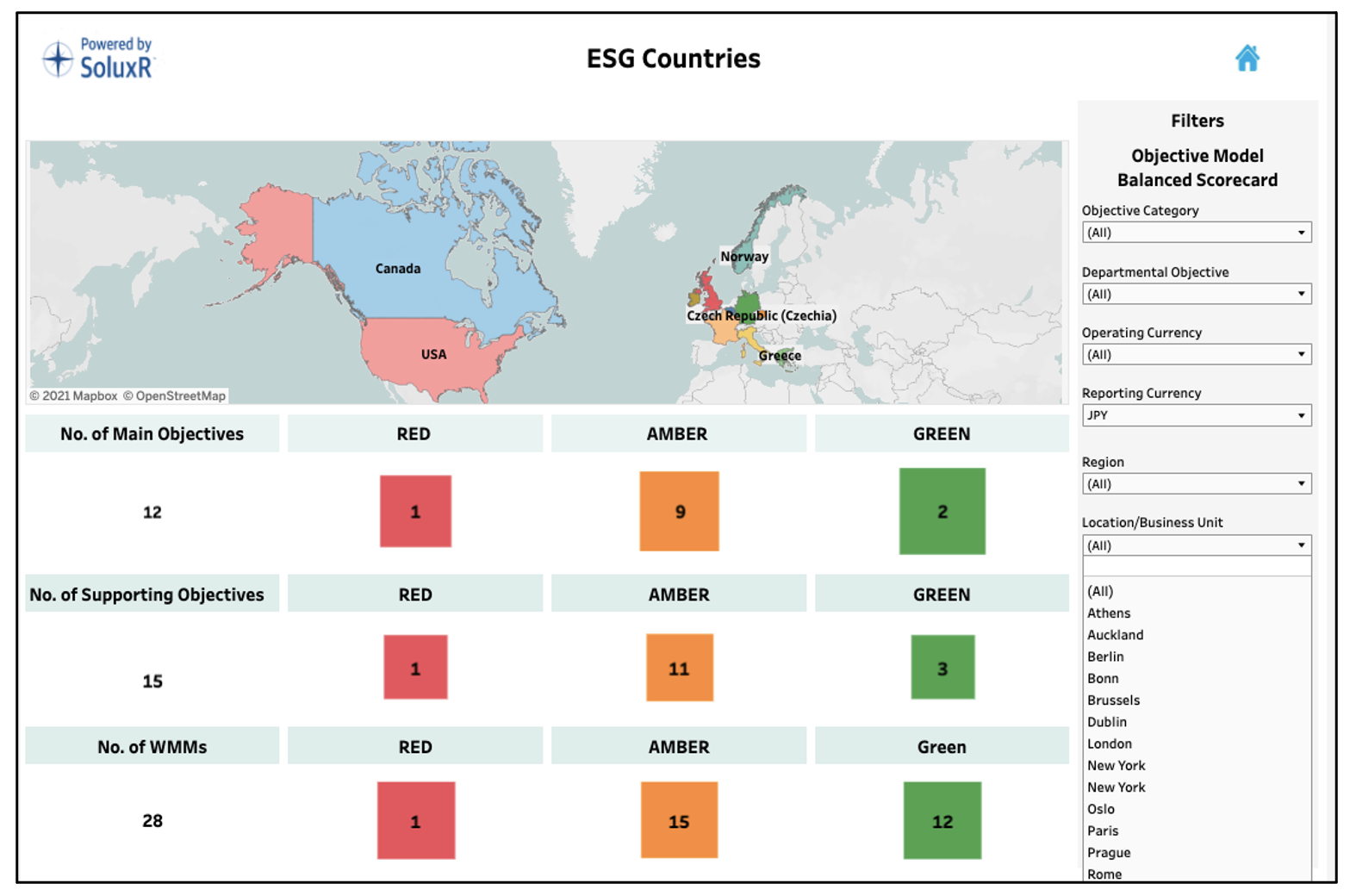 Country insights: RAG status of primary and secondary objectives derived from What Matters Most (WMM). Note the Location/Business Unit drop down which is selected allowing drill-down to specific locations.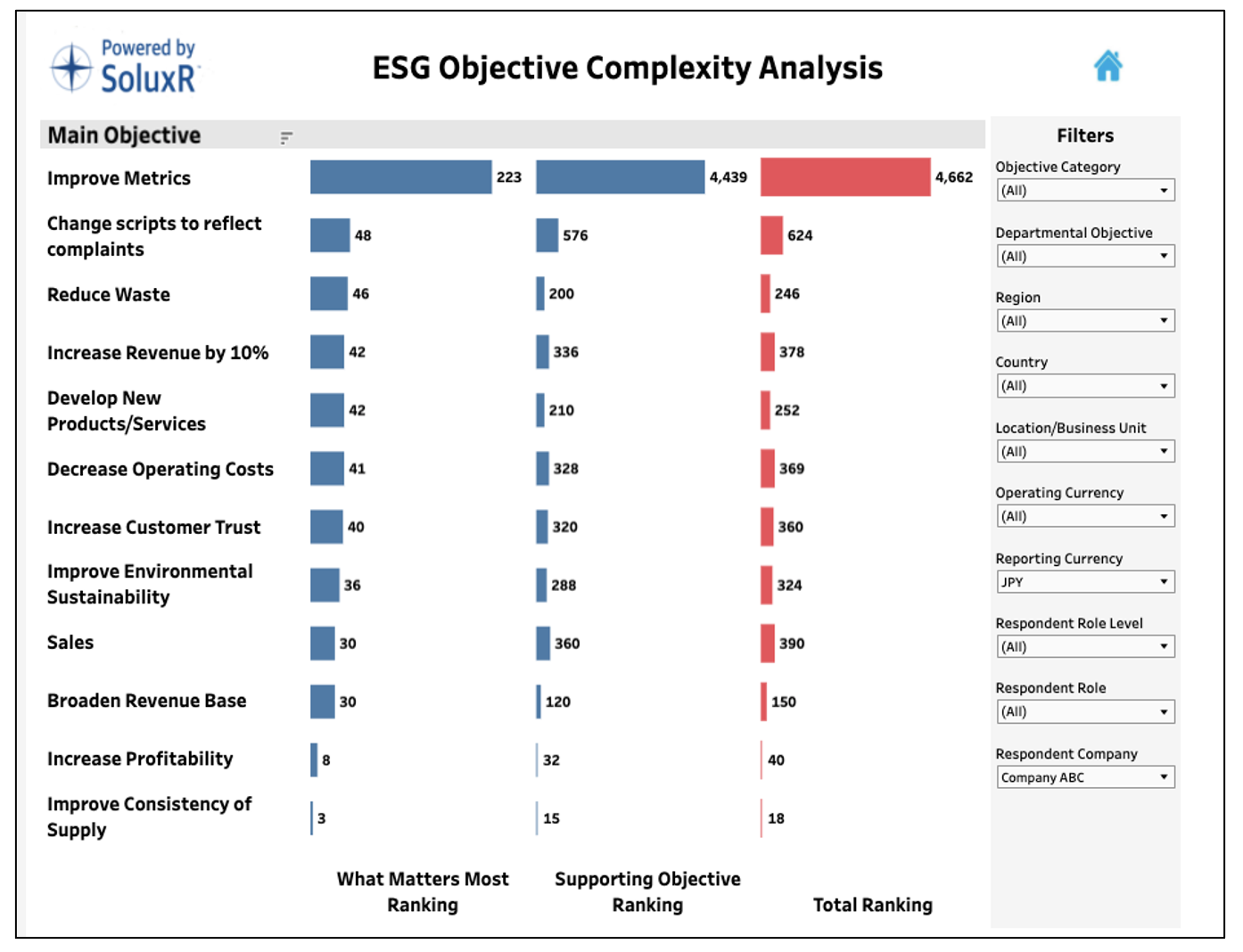 Objective complexity insights: The higher the score the more challenging the objective, the more monitoring and attention required to achievement. Note complexity metrics, together with estimates of likelihood, confidence levels and sentiment analysis provide a concrete basis on which to track and forecast progress along transition pathways.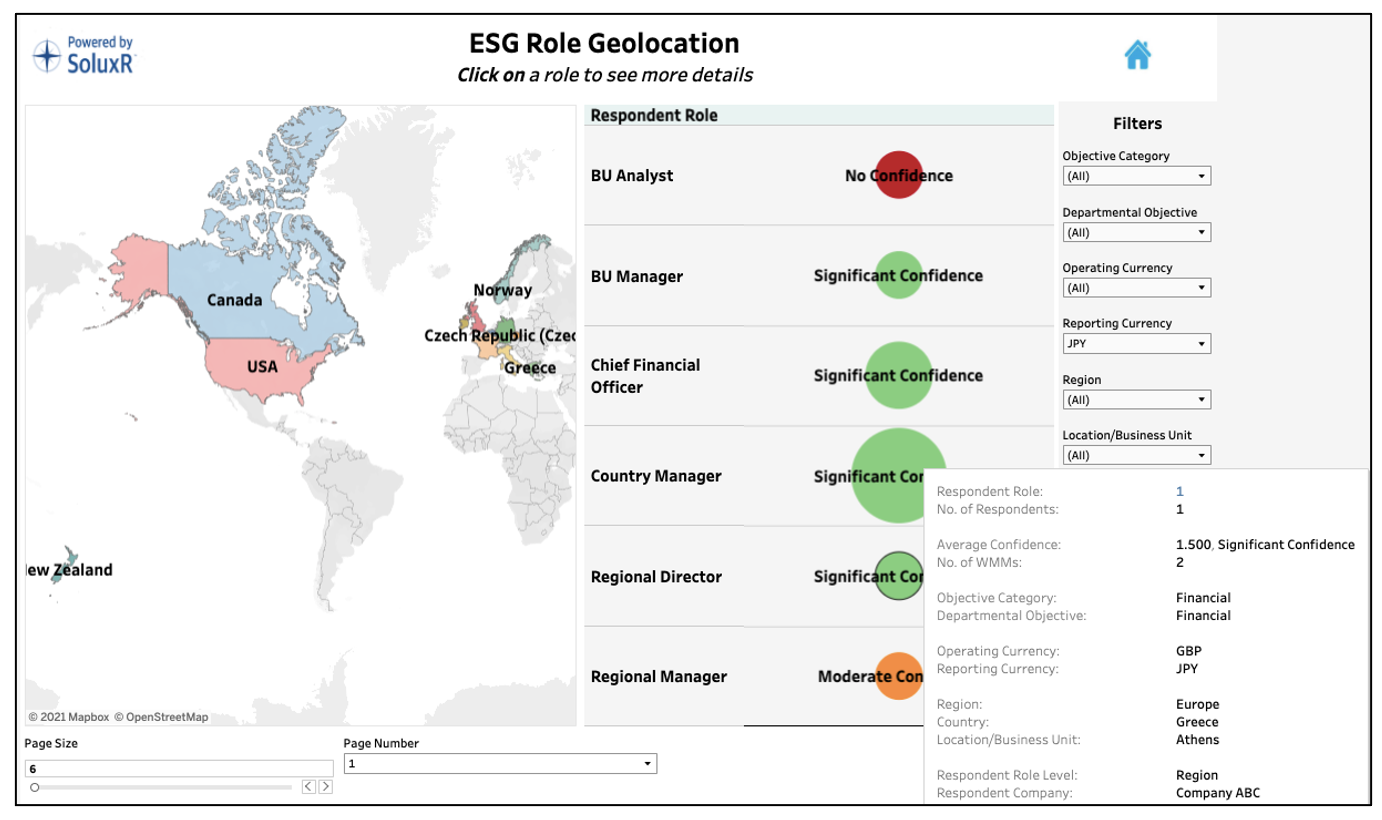 ESG Roles insights: Confidence levels of ESG actors across counties. Note that absence of role types and numbers actively involved reflect level and quality of engagement across organisations.
High Points
Automated enterprise assessments anticipating and detecting what's going on across the ESG landscape.
Enabling:
Entire organisational inputs into what needs to be done to achieve business/ESG objectives
Critical information feeding into growth plans
Proving and testing of business/ESG assumptions
Broadening views about disruptive emerging risks
Early indicators of what can accelerate or delay achievement of business objectives
Blending with historic information
Super reliable, fast, effective, easy to use, anticipating & detecting better than less adaptive competitors
** Fully mobile optimized, No training needed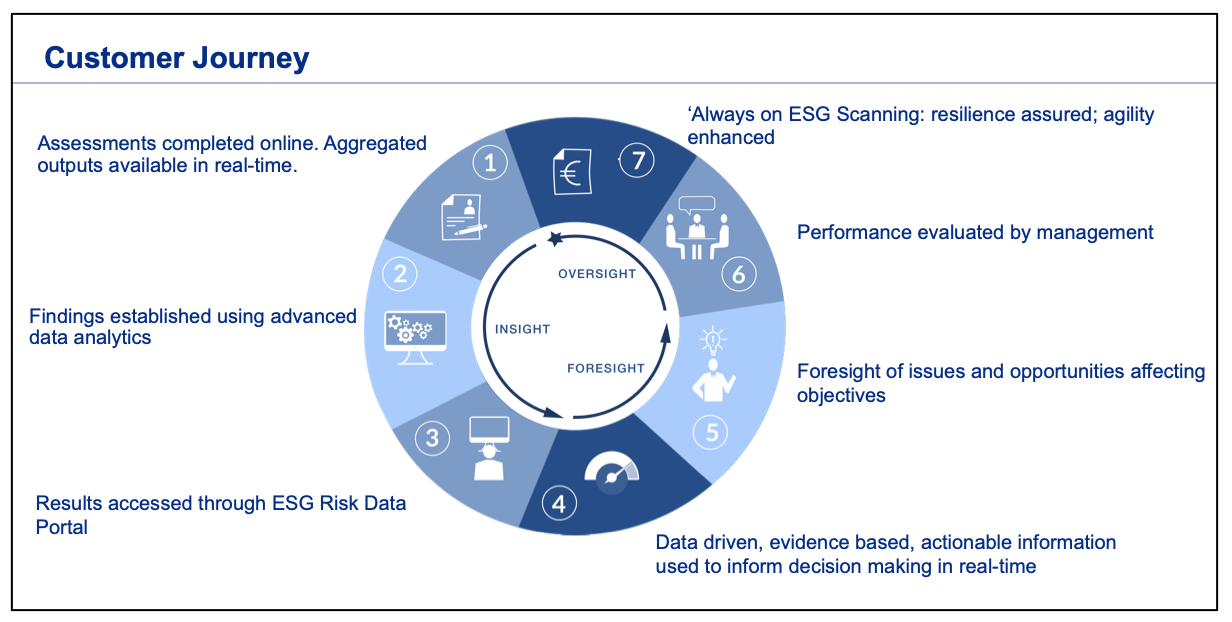 Value Proposition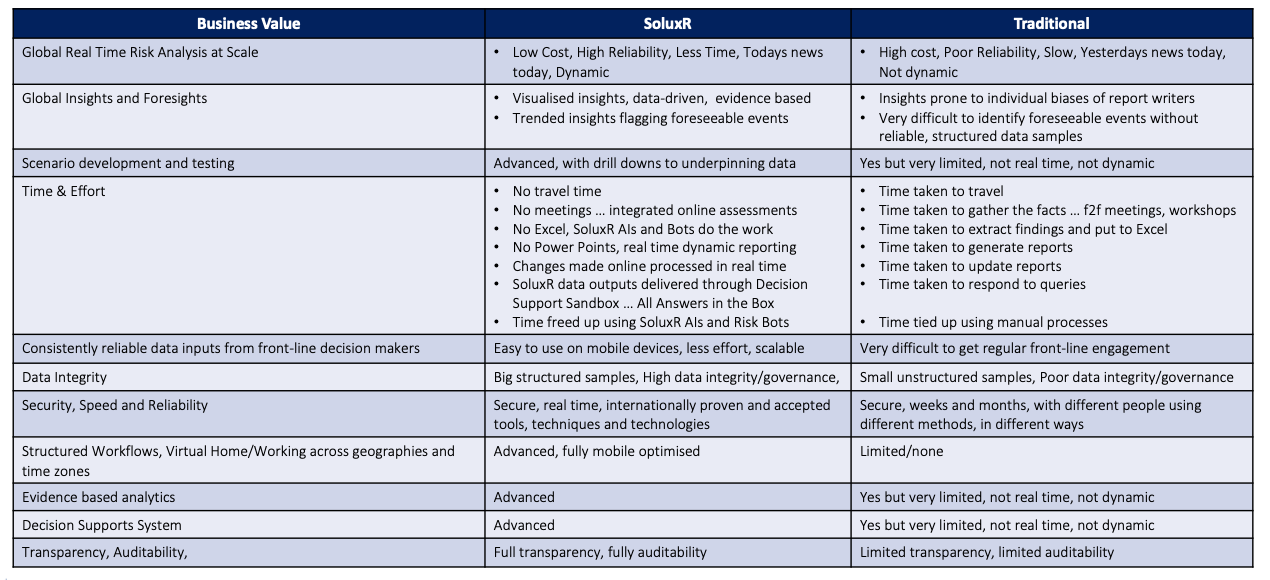 Features and Benefits